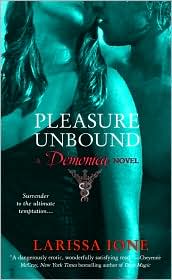 In a place where ecstasy
can cost you your life . . .


She's a demon-slayer who hungers for sensual pleasure-but fears it will always be denied her. Until Tayla Mancuso lands in a hospital run by demons in disguise, and the head doctor, Eidolon, makes her body burn with unslakable desire. But to prove her ultimate loyalty to her peers, she must betray the surgeon who saved her life.
Two lovers will dare to risk all.


Eidolon cannot resist this fiery, dangerous woman who fills him with both rage and passion. Not only is she his avowed enemy, but she could very well be the hunter who has been preying upon his people. Torn between his need for the truth and his quest to find his perfect mate before a horrific transformation claims him forever, Eidolon will dare the unthinkable-and let Tayla possess him, body and soul . . .
Pixie's Ponderings
I never really thought demons could be this hot! Doc E just makes me wanna get rid of panties forever. I love when a man knows what he's doing and does it well. The fact that Doc E is in charge of the entire UG is calling out to my love for alpha men all over.

And the chick...she's kickass. I love when the female of the story is strong. She fought just as well as Doc E did and I loved that. Sometimes reading about chicks that physcially kick ass makes me wanna learn martial arts. Good think I don't walk the streets of NY or I'd definitely make sure I knew how to take someone down first.

I took a long time to read it...but damn it was still good! I should not be getting any more books yet because I have a flippin library awaiting me, but this is definitely a series I want to keep reading.
Shade and Wraith definitely had my attention.
My greedy fingers are just itching for them.