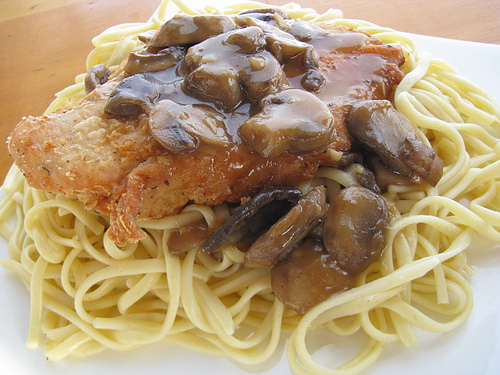 Not a picture of our chicken marsala, though I wish I had taken one, it's exactly what ours looked like.
Family days are nice. Lately things have been so relaxed and it's super awesome.
We had gp's and my aunt and uncle over. I already live with the p's so it's sort of a given for me. It was a giant cooking day. Biscuits and gravy in the morning, strawberry jam in the afternoon, and a late late dinner of chicken marsala. I smelled those strawberries all mashed up and wanted to stick my face in it. And the chicken was SO delicious I had 3 pieces of it. There were noodles involved too, but only for the first plate. They were gone between all of us by then. Could have done more, but it wasn't needed.
And of COURSE I had to have something sweet. So I went with vanilla ice cream with a frozen berry mix mixed in. Next time I'll let those thaw more, but it was so late that I couldn't wait. I had that yummy delight at Costco when they did their sample carts and fell in love with it. It did not disappoint tonight either. Mmm mm good!
And now I'm off to watch some more of My Boys and go to sleep. Such a good show, I started it less than a week ago on Netflix and I'm already on season 3. Boom!